I haven't had a chance to write much this year, partly because I've been busy with many things. However, writing is one of my favorite ways to express myself fully, and I consider it one of my superpowers. Recently, something very unusual happened, and it's beginning to feel like there's nothing I can do about it. Therefore, I believe it's best to write about it, not only for my own benefit but also to help others avoid a similar experience.
In Nigeria, many organizations take advantage of the unregulated space to do as they please, including neobanks like Payday. In this article, I want to share my unfortunate experience with Payday, not to damage their reputation but to raise awareness. Ultimately, it's up to you, the reader, to decide what to make of it.
On May 1, 2023, I lost all the funds in my Payday account. The most frustrating part is that the money did not belong to me. A client had sent the funds to renew their hosting plan, and now I had no way to do so.
I must stress that Payday does not value its users. As a neobank, they should respect and prioritize people's money, but unfortunately, this is not the case.
If you don't believe me, try conducting a simple Twitter search using the keyword "Payday Scams." You'll find plenty of information that will shed light on the situation.
The number of people who have fallen victim to Payday scams is staggering. It seems like there are hundreds of cases where customers have lost their hard-earned money. This raises a crucial question: why hasn't anyone done anything to stop these scams? What's enabling Payday to continue operating in this way?
My suspicion is that the scams are being carried out by people who work at Payday. Let me explain why. Payday intentionally maintains a customer care system that's unreliable and unresponsive. They don't have a customer service phone number, and their in-app support is rarely answered. Moreover, there's no physical office listed on Google, and their CEO keeps a low profile on Twitter. The Telegram group is locked, and no one responds to messages on Instagram.
---
In my opinion, Payday's staff is extremely unprofessional and lazy. They seem to have no clue what's going on in the company, which only adds to the frustration and confusion experienced by their customers. It's high time that Payday takes responsibility for its actions and makes the necessary changes to restore trust with its customers.
I'm not someone who jumps to conclusions without evidence, so I decided to conduct a survey to gather more information about Payday. I reached out to a team of six individuals and asked them about their experience with the company. Unfortunately, none of them had anything positive to say. In fact, most of them had been scammed as well. This is further evidence that Payday's practices are unethical and need to be addressed.
On May 1st, 2023, I loaded money into my Payday account with the intention of funding my virtual card. This is a standard procedure: you first load money in Naira, convert it to dollars, and then use the dollars to fund your card. However, I ran into an issue when I tried to fund my card and was unable to do so.
I immediately contacted Payday through their app to get help with the issue. After waiting for hours, I finally received a response, but it was incomplete and has remained that way until now.
After waiting for hours without receiving a response to my initial inquiry through the Payday app, I decided to reach out to their customer service team via email. However, to my disappointment, I did not receive any response to my email either.
As you can see from the screenshot, it took Payday three full days to reply to my initial inquiry. It's alarming that a Neobank, which is entrusted with people's hard-earned money, would take such an unacceptably long time to respond to their customers. This level of disregard for their customers is completely unacceptable and needs to be addressed. Below is the first screenshot of the message I sent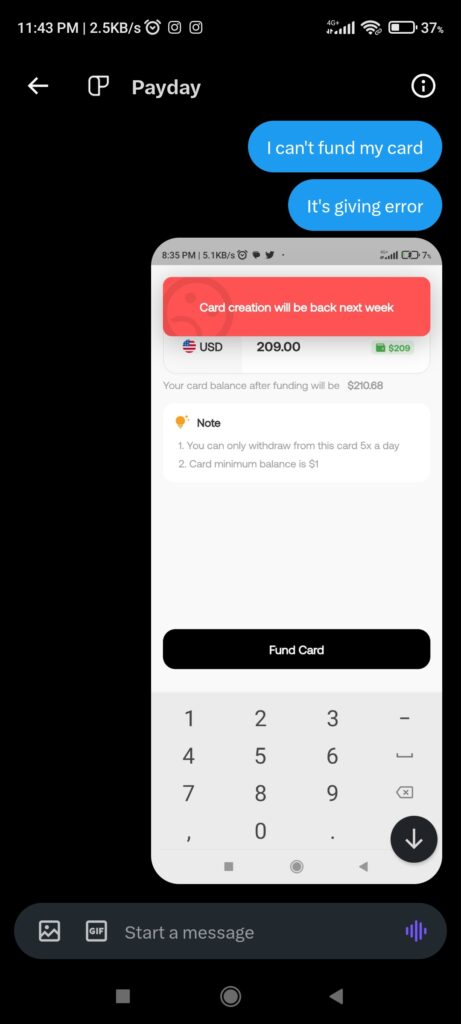 The next day, I received a dry and unsatisfactory response from Payday, which did little to address my concerns or resolve the issue at hand.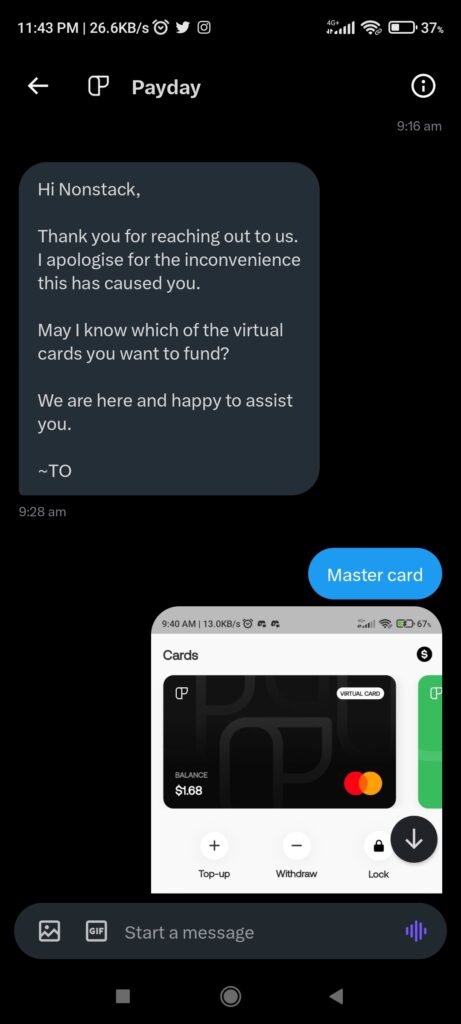 After I replied to their response, I was once again met with silence from Payday. It's absolutely mind-boggling to me that a Neobank, which is supposed to be at the forefront of innovation and customer service, could treat their customers with such disrespect and disregard. I cannot wrap my head around this level of unprofessionalism, and I hope that my experience will serve as a warning to others considering using Payday's services.
To my shock and horror, I discovered that my entire account balance had vanished into thin air. It appears that an intruder had gained unauthorized access to my account and transferred all of the funds to a Moniepoint account. My initial call to action was to reach out to Payday via Twitter, but unfortunately, I did not receive an early response.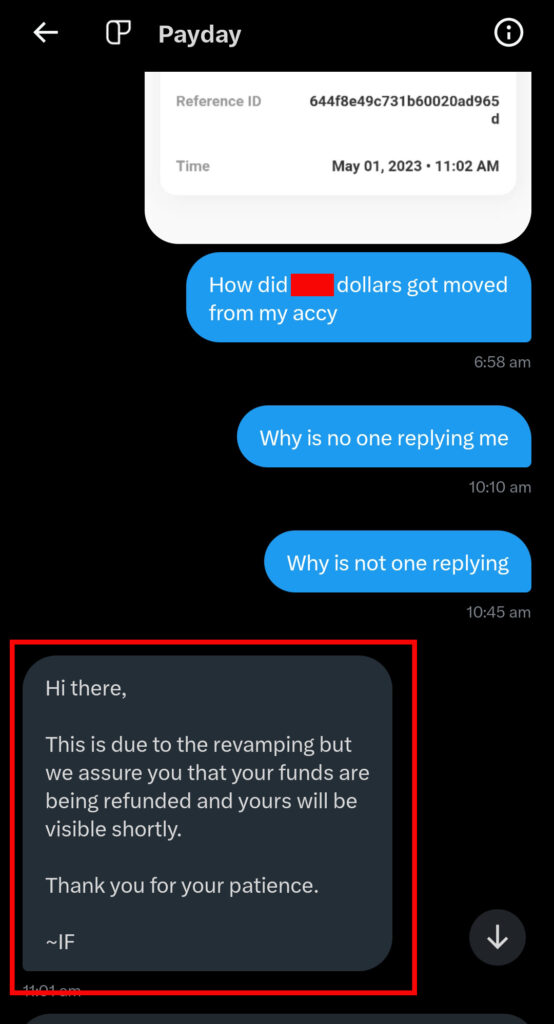 After some time, I received a response stating that the delay was due to the revamping process, and that my funds would be refunded and visible soon. However, I found it difficult to believe this explanation because of the suspicious way the money had been transferred. Attached below is a screenshot for reference.
I probed them further demanding for my money to be sent back to my wallet. Below is the reply I got.
After receiving that message, Payday ignored all subsequent messages I sent and showed no remorse. Despite sending multiple messages, I received no response.
Feeling like I had exhausted all other options, I resorted to calling out Payday and its founders incessantly on Twitter. Even after hours of doing so, Payday continued to ignore me. Moniepoint made an attempt to reach out, but Payday did not.
I think the annoying thing about the whole process is that Payday later reached out to me asking me if I clicked on a link.
It appears that Payday has been aware of a group of scammers who have been targeting their customers for a long time, yet they have failed to take any measures to prevent it. By examining the attached screenshot, we can see that the attacker transferred the funds to a Moniepoint account, indicating that Payday may have been aware of this issue for some time. If an attacker was able to gain access to Payday's system through a backdoor, and Moniepoint was the chosen method of moving the money, why hasn't Payday taken steps to prevent such transactions and implement extra verification measures to detect and hold the culprit responsible.
There is no way to convince me that Payday is not complicit in these attacks, given their poor customer service, lack of due diligence, and failure to repudiate their system. Their negligence is unacceptable
I have had multiple Google Meet sessions with various members of the company, including the co-founder, but every meeting ultimately boils down to their attempt to prove they were not responsible. I am not accusing them of being responsible, but rather pointing out that their brand has enabled these attacks and that Payday's actions over the years have facilitated hackers. I refuse to bear the responsibility for their negligence.
I have consulted with my lawyer, who advised me to reach out to the Central Bank of Nigeria (CBN) and submit a petition. However, I want to give Payday the benefit of the doubt and avoid taking these actions at this time. I hope that both parties can do the right thing and come to a satisfactory resolution. I have been a consistent user of Payday for a year and should not be treated in this manner. I will only send this post to them via Twitter and wait for their next actions towards returning my money.
If no action is taken, I will be left with no choice but to take full legal action.