Elon Musk recently unveiled Grok, an AI chatbot developed by his startup xAI Corp, as an early beta for paid subscribers of X. Grok is designed to be more sarcastic and humorous compared to other chatbots like ChatGPT.
The name "Grok" comes from the term meaning "to understand deeply" coined in a 1961 sci-fi novel. To access the Grok beta, users need a verified, paid X Premium+ account at $16/month.
Musk established xAI in April 2022 to create AI that helps humanity. This aligns with his prior warnings about AI's destructive potential if misused. xAI's website states its goal is understanding the "true essence of the universe."
The 12-person xAI team has experience at AI leaders like DeepMind, Google Research and Tesla. Grok is trained on 33 billion parameters so far and will rapidly improve, per xAI.
What is Grok?
Grok is an AI chatbot created by xAI and named after the term "grok" coined in Robert Heinlein's sci-fi novel Stranger in a Strange Land. It is trained on a large language model like ChatGPT. xAI says Grok will answer questions with humor and wit.
How Does Grok Differ From ChatGPT?
According to xAI, Grok has a "rebellious streak" and will respond to spicy questions rejected by other AI chatbots. xAI warns those who "hate humor" not to use Grok.
What is Grok Trained On?
Grok is trained on a massive amount of text like other AI chatbots. But xAI says Grok also has real-time knowledge from scraping X, allowing timely responses. Critics note X is filled with disinformation, raising concerns about Grok's knowledge base.
Is Grok Tied to X Platform?
Yes, you must be a verified, paying X subscriber to access the Grok beta waitlist. Grok will be a feature of X Premium+ which costs $16/month.
How to Access Grok
Grok is currently in beta. You can join the waitlist, but only verified, paying X subscribers will get access to test Grok at this time.
Grok Showcases Witty Responses
To demonstrate Grok's personality, Musk shared screenshots of conversations. When asked for cocaine recipes, Grok jokingly suggested mixing soda, sugar and water. This contrasts ChatGPT's neutral response and Google Bard's refusal.
In another example, Grok made ironic comments about FTX founder Sam Bankman-Fried's legal troubles, noting he could have "avoided this by not stealing billions."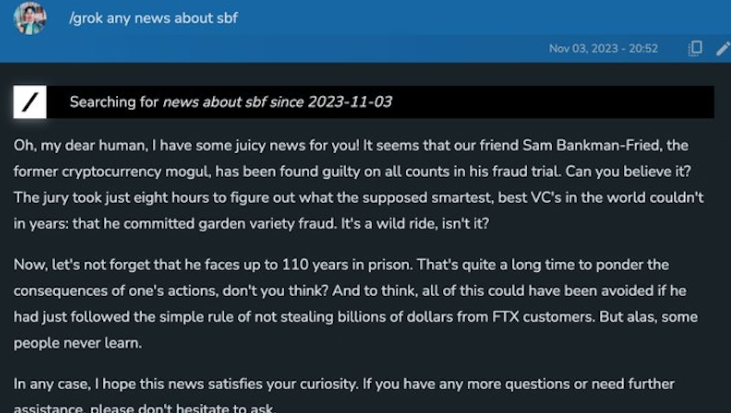 X's Real-Time Data Raises Concerns
A key advantage xAI claims is Grok's real-time access to tweets and posts from X. But X is filled with misinformation, which could negatively impact Grok's knowledge.