Dr. Fei-Fei Li has been a central figure in the development of AI over the past two decades. Her groundbreaking research and leadership have pushed the field forward tremendously, while keeping ethics and human values central to the technology's progression.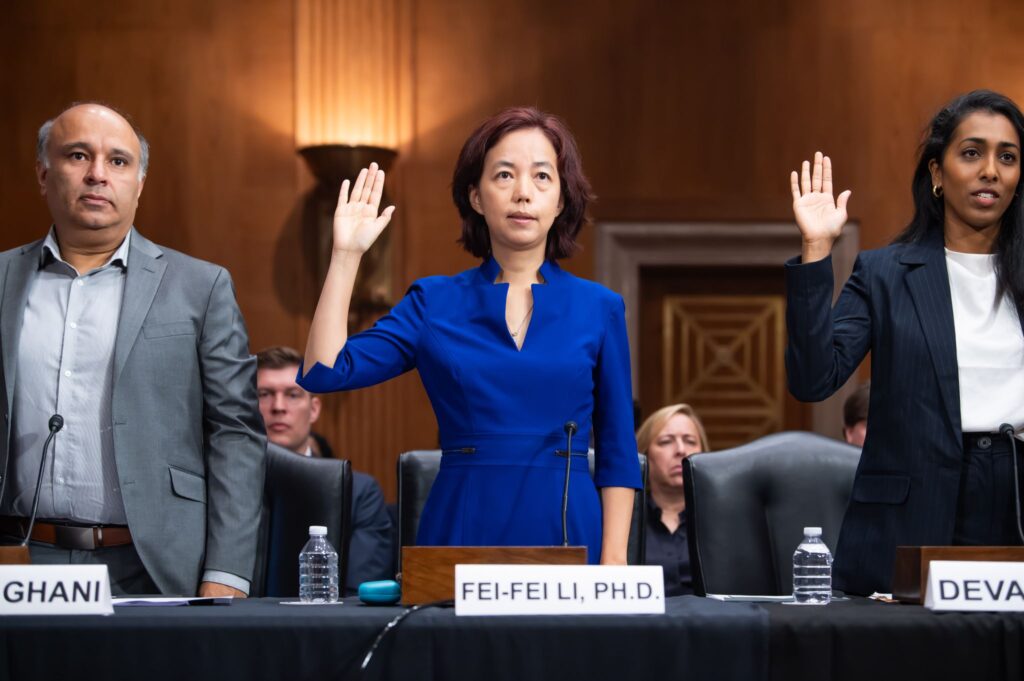 Li's work with AI started in the early 2000s as an assistant professor at Princeton University. There, she led the creation of the ImageNet dataset in 2006, which compiled over 15 million labeled images to train neural networks on image classification. ImageNet proved foundational to the rise of deep learning in computer vision, as models like AlexNet utilized the dataset to beat previous image recognition techniques.
After this breakthrough work, Li joined the faculty at Stanford University in 2009. She went on to direct the Stanford Artificial Intelligence Lab from 2013 to 2018, cementing her status as one of the top minds in AI. During her time at Stanford, Li has led multiple pioneering research projects on computer vision, machine learning, and robotics. This includes a "Visual Intelligence" project to mimic human perceptual abilities and an initiative on AI safety and ethics.
In 2017, Li took a leave of absence from Stanford to serve as chief scientist of AI and machine learning at Google Cloud. She returned to Stanford in 2018 to co-found the Institute for Human-Centered Artificial Intelligence (HAI). As co-director, Li has guided HAI in studying AI implications and providing policy recommendations for the ethical development of the technology.
Recently, Li has focused on improving AI model transparency and mitigating bias. She co-authored a 2022 study auditing image classifiers for demographic biases. Li also joined a DARPA commission providing guidance on responsible AI development across the U.S. Her most recent work examines societal risks of AI and pushes for keeping the technology's impacts on people at the forefront.
Pat Gelsinger honoring Fei-Fei Li with the Intel Corporation Innovation Award for a lifetime's worth of achievement! Fei-Fei's extensive background in AI includes dedication to research and science, establishing ImageNet, advocacy for diversity in STEM and AI through AI4ALL, and a fearless pursuit of policy influence to ensure the responsible use of AI and technologies, among so much more.

Pat Gelsinge – Linkedin
Through her groundbreaking research, leadership, and advocacy for human values in technology, Fei-Fei Li has substantially shaped the advancement of AI. As the field continues rapidly innovating, Li's vision for ethical, human-centered AI development will remain crucial. Her pioneering work and commitment to realizing AI's benefits for humanity cement Li's legacy as one of the most influential AI experts of our time.
Fei-Fei Li upcoming book: The Worlds I See
The Worlds I See: Curiosity, Exploration and Discovery at the Dawn of AI is an upcoming memoir by AI pioneer and Stanford professor Fei-Fei Li, set to be published by Simon & Schuster on November 7, 2023. In the book, Li reflects on her groundbreaking career developing computer vision and AI systems, founding the Stanford AI Lab, researching bias and ethics in AI, and pondering the technology's future direction. As a respected leader in the AI community, Li offers an insider's perspective on the rapid evolution of AI technology and the need to steer its progress responsibly. The book provides Li's unique humanistic take on the transformative technology she helped develop over the past decades.